Electron Beam Lithography (EBL)
Electron beam lithography, often referred to as e-beam lithography or EBL, is a versatile tool capable of making almost any kind of pattern imaginable within nanotechnology. Electron beam lithography is a maskless direct write lithography technique initially developed in the 1950s and refined ever since to a level where the state-of-the-art electron beam tools today can make dense sub-20 nm structures and sub-10 nm sparser structures.
The strengths of EBL are mainly:
Resolution: possible to create nanostructures with dimensions below 10 nm in any thinkable configuration
Overlay accuracy: the overlay accuracy of modern electron beam tools isare better than 20 nm
Direct write: patterns are created directly from CAD design without a physical mask.
Electron Beam Lithography in more details
An electron beam lithography system consists of an electron source, a lens system, an electron beam deflection system, a high precision motorized stage and computers and software to control all elements. Today, commercial tools use field electron emission sources, such as heated W/ZrO2 for lower energy spread, enhanced brightness and higher stability.
The beam deflection system is used to scan the beam within a so-called writing field, typically 100 µm x 100 µm up to 1 mm x 1 mm. The movement between writing fields is performed by the stage, which is controlled with a laser interferometer to achieve the smallest possible stitching error between each writing field. Today, advanced tools have a stitching error between writing fields less than 10 nm, so most often stitching errors between fields are not visible.
Electron Beam Lithography and how we can help
We offer EBL services based on two Jeol JBX 9500 FSZ systems.
The minimum achieved linewidth is 10 nm on these systems. The JBX 9500 FSZ is a 100 kV system with a writing field of up to 1,000 µm x 1,000 µm. The system can expose 50 mm, 100 mm, 150 mm and 200 mm wafers as well as 6025 mask blanks. The maximum writing field is 200 mm x 200 mm.
NIL stamps are most often patterned by electron beam lithography.
We also offer a wide variety of pre- and post-processing of wafers if required.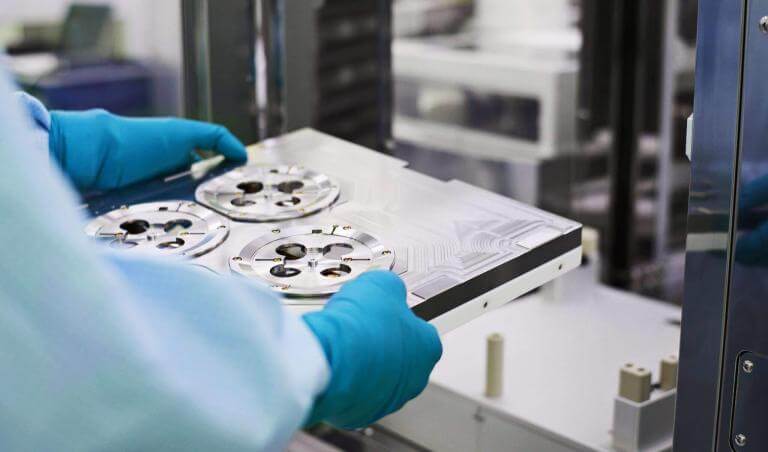 Electron Beam Lithography Specifications
| | |
| --- | --- |
| | |
| | Up to 1,000 µm x 1,000 µm |
| Max stiching error between fields | |
| | |
| | |
| | Better than 1 nm across 6 inch x 6 inch area |
| | |
| | |
| | |
| Customer specified resist can be used upon request | HSQ (negative tone), SAL (negative tone) |
Design file requirements
In order to allow easy handling of design files for electron beam lithography the designs must be supplied in one of the following formats: GDSII, DXF, TDB or CIF.
Furthermore, the design file must fulfil the following criteria:
The design file must contain all objects in the design in the correct dimensions, layout and polarity.
All objects in the design file must be drawn as polygons — no circular objects or line objects are allowed.
All design files handed over to NILT are kept strictly confidential and all design file data is deleted upon customer request.