With the launch of our third version of the Compact Nanoimprint Tool, we would like to highlight some of the interesting projects that have been conducted in previous versions of the tool. The CNI gives many possibilities for research and development, both in terms of early stages of nano replication, but also in advanced development of nanoimprinting, hot embossing and more.
Dr. Nikolaos Kehagias has demonstrated several projects with the CNI. Dr. Nikolaos Kehagias is currently a researcher at Nanoscience and Nanotechnology Institute of NCSR Demokritos (Athens, Greece). For 10 years, he was research manager of the nanofabrication/nanoimprint lithography platform of ICN2 in Barcelona. In this position, he was leading the research work related to multiscale hydrophobic structures using Reverse NIL in CNI v2.1.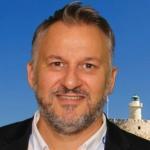 Dr. Nikolaos Kehagias, Researcher at Nanoscience and Nanotechnology Institute of NCSR Demokritos (Athens, Greece)
Hierarchical surfaces for enhanced self-cleaning applications
In this study, the research group presented a flexible and adaptable fabrication method to create complex hierarchical structures over inherently hydrophobic resist materials. They analyzed different combinations of hierarchical micro-nanostructures for their application to self-cleaning surfaces and successfully verified their self-cleaning properties.
The research group used CNI and a reverse NIL approach to imprint hexagonal structures (~1 µm wall width) on top of micro pillars (~40 µm diameter). They were able to achieve imprint on the sides of the pillars using PDMS stamps and taking advantage of CNI's hydrostatic pressure application.
Tilted SEM images showing a hexagonal pattern array conformally imprinted on pre-patterend micro pillars structures using reverse NIL in a CNI tool.
The combination of multiple length scales has proven essential to achieve very good self-cleaning properties. In their paper, they get water contact angles ~120° with microstructures, and ~140° using nanostructures. All of the droplets were pinned to the surface and didn't roll off, something that is required for the self-cleaning effect. The combination of nano and microstructures yield water contact angles as high as 170° with roll-off angles as low as 7° showing true self-cleaning capabilities.